Born: 1917
Gender: Male
Nationality: American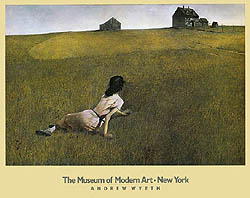 "…I happen to paint things that reflect the basic truths of life: sky, earth, friends, the intimate things." Andrew Wyeth.
Wyeth was taught by his father Newell Convers Wyeth, a successful illustrator of children's books. Yet it was the people and places he knew best that provided his main motivation, namely the Brandywine Valley around his native Chadds Ford, Pennsylvania and the Port Clyde region off the Maine coast. He had his first one-man exhibition at the Macbeth Gallery in New York in 1937 aged 20.
Specialising in watercolour or tempera his paintings were a huge success. He is best known for 'Christina's World' (1948), a painting that rivals Grant Wood's 'American Gothic' (1930) as one of the most popular American paintings of the 20th century. It depicts one Christina Olson, a friend of the artist, who was crippled with polio, gazing at a farmhouse in the distance. It is charged with a sense of loneliness and portentousness that became typical of Wyeth's work. He went on to win numerous awards and in 1976 became the first native born living American to receive a retrospective exhibition at the Metropolitan Museum in New York.
Despite his enormous success, Wyeth's paintings tend to polarise critics' opinions. Of 'Christina's World', Sir David Piper wrote, "It seems to express both the tragedy and the joy of life with such vivid poignancy that the painting becomes a universal symbol of the human condition." At the other extreme lies Professor Sam Hunter, one of the leading authorities on 20th century American Art who has described Wyeth's oeuvre thus; "What most appeals to the public, one must conclude, apart from Wyeth's conspicuous virtuosity, is the artist's banality of imagination and lack of pictorial ambition. He comfortably fits the common-sense ethos and non-heroic mood of today's popular culture, despite his occasional lapses into gloomy introspection." His haunting paintings of reclusive New Englanders, run through with a deep sense of nostalgia (his works rarely feature such modern attributes as motor cars) have had an enormous impact on the American consciousness