Born: 1870
Died: 1966
Gender: Male
Nationality: American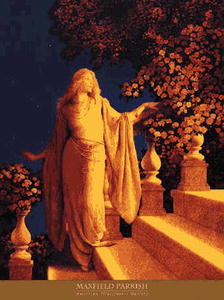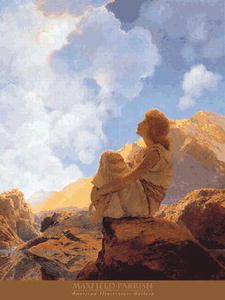 "[His prints] are in a lush and romantic style, set in an escapist world combining elements of the Arabian Nights, Hollywood, and classical antiquity, with languorous maidens and idyllic landscape backgrounds." Ian Chilvers from The Oxford Dictionary of 20th Century Art ..
Maxfield Parrish was born in Philadelphia, the son of landscape painter Stephen Parrish. He studied at the Pennsylvania Academy of the Fine Arts and was inspired by classes given by the author-illustrator Howard Pyle, famous for his children's books. A cover for Harper's Weekly in 1895 was his first success and he soon gained a reputation for his illustrations, posters and advertisements. His mural paintings were also admired, most notably the 'Old King Cole' series of 1906 for the Knickerbocker Hotel (now the St. Regis-Sheraton Hotel) in New York.
Parrish became celebrated for his colour prints designed for the mass market. Such pictures as 'The Garden of Allah' (1919) and 'Dawn' (1920) were hugely popular across America. In line with many of his advertisements, these pictures were aglow with sentimentality and produced with a fine eye for detail. By the 1930s, however, his style had gone out of fashion and he retired to paint landscapes.
His works represent an escapist quality, presenting idylls into which one can flee everyday life. The romanticism and innocence of much of his work was never going to please the art critics, but at the time it was embraced by millions of American households, many of whom would not normally show any interest in art. In the Sixties, his paintings long regarded as kitsch experienced a minor revival with the Metropolitan Museum buying one painting 'Errant Pan' (1915).