Born: 1844
Died: 1926
Gender: Female
Nationality: American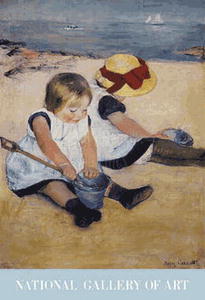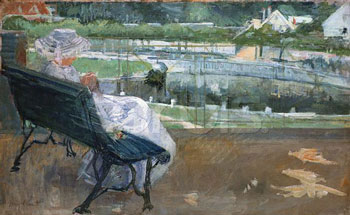 "At last, I could work with absolute independence without considering the opinion of a jury. I had already recognized who were my true masters. I admired Manet, Courbet, and Degas. I hated conventional art and I began to live." Mary Cassatt
Mary Cassatt was the daughter of an affluent Pittsburgh businessman, of French ancestry. In 1861, she studied at the Pennsylvania Academy of the Fine Arts and was required to draw copies of prints and plaster casts before she was allowed to paint. Between 1865 and 1869 she traveled and studied throughout Europe. In 1868, Cassatt had her first painting accepted by the Paris Salon. Cassatt embraced more radical art in the mid-1870s, when she discovered the works of the Impressionists. She was the only American to exhibit with the Impressionists.
In 1877 Degas saw Cassatt's work at the Salon and invited her to join the impressionists. Having experienced a number of rejections from Salon exhibitions and other significant juried shows, Cassatt readily accepted Degas' invitation, and aligned herself the Impressionists, thereby rejecting the system of juried exhibitions. They both came from similar upper-class backgrounds, and shared common visual
sensibilities such as, an interest in bold compositional structure, asymmetry, contemporary subject matter, and the high vantage point of Japanese woodblock prints. Despite her admiration for Degas, she was not a slavish imitator of his work and retained her own personal style. She was a highly skilled draftsman who preferred unposed, asymmetrical compositions. She developed a distinctive style that combined a light, bright palette with strong contours and confident volumes. Cassatt's style and subject matter changed greatly because of her association with the Impressionists. She created a feeling of closeness by compressing space and tipping the perspective. This was combined with a sense of immediate observation with the emphasis on gesture and capturing momentary effects. She began painting subjects drawn from modern life. Focusing on the domestic and the intimate rather than social and urban.
In 1879, Cassatt worked closely with Degas and Pissarro in making prints, for a journal of black-and-white etchings. Although never published her involvement in this project would indelibly influence her oeuvre. She experimented with graphic techniques, which were very important to Cassatt's development as a printmaker. During this period, Cassatt became a highly innovative printmaker, using rich textures, sophisticated shadings, and vigorous lines to capture the luminous spectacle of women at the theater and family posed in lamplit interiors. The majority of these works were soft-ground etchings with aquatint, a process that echoed Cassatt's experience as a painter. Throughout the latter half of the 1880's, Cassatt used a process called drypoint.
In 1890, there was a large exhibition of Japanese woodblock prints in Paris. Cassatt frequently attended the exhibition, which increased her interest in printmaking. She particularly admired the work of the Kitagawa Utamaro, a Japanese master, who depicted typical moments in a woman's day. The exhibition had a profound effect on Cassatt, and inspired her to create a series of colour aquatints. Ten prints were executed in 1891 and became one of the major achievements of her career and a milestone in the history of printmaking. To create her prints Cassatt used a plate for the tonal area and another for drypoint lines. She applied color by hand to each of the plates, which were then successively impressed upon paper. The procedure was complex and labor-intensive, requiring a day of preparation just to ink and reprint the plates for each of the impressions.
Japanese woodblock prints, heavily influenced Cassatt's composition, colour, perspective, and subject matter. Women bathing children is a theme commonly found in Japanese art and Cassatt depicts women and children who are neither European nor Asian. Largely because of the exhibition, her draughtsmanship became more emphatic; her colors clearer and more boldly defined. It also confirmed her predilection for printmaking techniques. Cassatt is one of the foremost American printmakers of the nineteenth century. She produced over 220 prints during the course of her career.
Cassatt frequently chose her family and friends as models, whom she depicted in their bourgeois pastimes. Cassatt's sister, Lydia, and their parents lived with the artist in Paris. Her sister often served as a model. Lydia had been diagnosed with an incurable kidney ailment and died in 1882. The loss was devastating to Cassatt, who was left to care for her aging parents alone while directing her busy and demanding career. Her sitters possess startling characterization in their appearance and actions. Because they neither pose for nor acknowledge the viewer, they convey something authentic and immediate. Mothers with children are perhaps the subjects most often linked with Cassatt, and she rendered the theme throughout her career. Degas' advice was, "It is essential to do the same subject over and over again, ten times, a hundred times." Naturalism and sensuousness characterize her portrayals of children.
Cassatt's pictures of mother and child were presented as an icon of universal ideas, which share certain formal characteristics. All are half-length compositions with little background detail. The space is closed and compressed in a quiet, controlled mood. These features suggest that Cassatt's depictions may have been attempts to create "modern Madonna's," contemporary renditions on the timeless theme of new life and maternal love. She updated the traditional Madonna-and child formula through gesture and psychological subtlety. Despite the apparent spontaneity of these mother and-child images, Cassatt planned the compositions meticulously and was careful in selecting her models, who, were not always mother and child. Cassatt's contemporaries recognized both the religious allusions of her mother and child pictures and her departure from their traditional expression. In rendering this subject, the artist relied on keen observation rather than idealization, but still portrayed great intimacy. Cassatt not only painted in a modern way; she reflected the most advanced 19th-century ideas about raising children.
Cassatt's influence was profound on American art, and it was not just through the work that she produced. She sent paintings back to exhibitions in the United States. They were among the first impressionist works seen in America. She provided direct financial help and promoted the works of Impressionists in the USA. She persuaded her brother Alexander, to buy works by Manet, Monet, Morisot, Renoir, Degas, and Pissarro and made him the first important Impressionist collector in America. By advising wealthy American patrons on acquisitions, she also played a crucial role in forming some of the most important collections of impressionist art in America. Cassatt's life was marked by her bold resolve to transcend conventional expectations and became a truly modern woman. Cassatt lived in France all her life, though her love of her adopted country did not increase with age, and her latter days were clouded with bitterness. Her failing eyesight prevented her from working after 1911. She died at the age of eighty-two.