Born: 1912
Died: 1980
Gender: Male
Nationality: American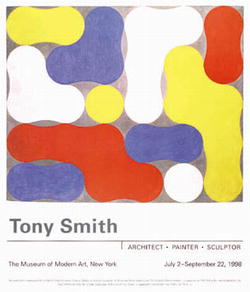 Tony Smith was born at South Orange, New Jersey and studied at one of the most important art schools in America, the Art
Students' League in New York where he stayed for three years from 1933 to 1936. He then moved on to the New Bauhaus based in Chicago from 1937 to 1938, after which he took up an architecture apprenticeship as a clerk of works for Frank Lloyd Wright.
For the next 20 years Smith worked in architecture, painting as well as sculpture, the latter of which established his reputation when he first exhibited in 1964. His sculptures were frequently produced on a large scale and were often characterised by his interest in repetitive geometrical shapes rendered in steel. In 1966 he had his first one-man exhibition at the Wadsworth Athenaeum, followed shortly after by a show at the Institute of Contemporary Art at the University of Pennsylvania, Philadelphia.
He was friends with Barnett Newman, Clyfford Still, Mark Rothko and Jackson Pollock, and shared their interest with the way art can refer to both nature and the organic. His work is concerned with the way art functions in a public context, for example, one of his most famous works, 'Grasshopper', is located in the exterior, thus realising one of his aims to use sculpture as a way to add new dimensions to the environment.