Born: 1860
Died: 1939
Gender: Male
Nationality: Czech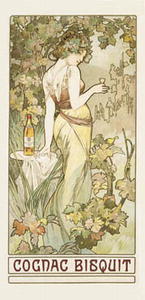 "For the Slavs, the plastic arts are a common striving towards a symbolic manifestation… a taste for symbols is part of the inheritance of all Slavs… That is why the language of symbols is the surest way to communicate our feelings to our brother Slavs." Alphonse Mucha.
Alphonse Mucha was born in South Moravia. In 1882 he started to earn a living by painting portraits in Mikulov. The following year Count Khuen commissioned Mucha to decorate his castle at Emmahof and his brother Count Egon Belasi became his patron. He was educated at the Munich Academy of Arts and at the Académie Julian in Paris and after completing work for Count Khuen began work as an illustrator in 1889.
His first work was a theatre magazine entitled Le Costume au Theatre and in it his first drawing of Sarah Bernhardt as Cleopatra appeared in 1890. By 1895 he had signed a six year contract with Bernardt to produce stage and costume designs as well as posters. At the same time Mucha joined the Salon des Cent, a Symbolist group that included Bonnard, Mallarmé and Toulouse-Lautrec. He designed a poster for their 20th exhibition in 1896 and the next year he exhibited many of his works at this exhibition as well as at his own one-man show at the Topic Gallery in Prague. Between 1903 and 1922 Mucha made four visits to the United States where his work proved particularly successful. Charles Richard Crane, a Chicago industrialist and Slavophile, agreed to finance Mucha's series of 20 huge paintings entitled 'Slav Epic' (1909-1928). He continued to work on a number of projects, however, including the design of new postage stamps for Czechoslovakia in 1918 and producing a number of posters and designs for public buildings besides the 'Slav Epic' for example, 'Allegory of Prague' (1911) for the Prague Town Hall. He completed the full cycle of the 'Slav Epic' finally in 1928 and it was exhibited at the Trade Fair Palace. Just three years later he was commissioned to produce a stained-glass window for the St. Vitus Cathedral, then in 1938 embarked on yet another mammoth project involving a triptych, 'The Age of Wisdom', 'The Age of Love' and 'The Age of Reason'. Sadly they were never completed.
Mucha is best known for his luxurious poster and product designs, which encapsulate the Art Nouveau style. Yet his impressive 'Slav Epic', featuring 20 vast canvases show both his commitment to his art and his country. After his death he received little attention until an exhibition at the Grand Palais in Paris revived interest in his work in 1980.