Born: 1930
Gender: Male
Nationality: American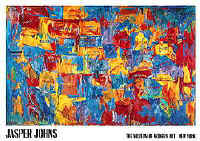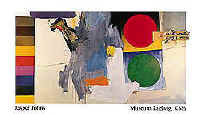 "I have no ideas about what the paintings imply about the world. I don't think that's a painter's business. He just paints paintings without a conscious reason." Jasper Johns.
Jasper Johns was born in Augusta, Georgia and studied at the University of Southern Carolina before dropping out and moving to New York in 1949. After two terms at a commercial art college and a brief stint doing military service, Johns met Robert Rauschenberg in 1954. Their close relationship was to endure for eight years. Forming a partnership, their first project was designing upmarket window displays. With the money they earnt, they were able to concentrate on their artistic experiments.
'Flag' (1954) is one of Johns' key works. Inspired by a dream, the painting depicts the American flag rendered in heavily textured brushwork. It was the first of many such studies, as he produced not only variations on the flag image in various mixed media, but also replicated other commonplace two-dimensional objects such as targets, numbers and maps. Similarly, his sculpture work depicted banal everyday objects such as beer cans and brushes in a coffee tin. In 1958 Johns exhibited his first one-man show at the Leo Castelli Gallery in New York. It was a tremendous success and his reputation was confirmed. In the 1970s a cross-hatching motif characterised much of his work. While in the 1980s autobiographical elements entered his paintings, for example in 'Racing Thoughts' (1983), his collage contains personal references such as artifacts from his bathroom.
The everyday objects in Johns' work raise questions about the relationship between art and reality. His paintings are essentially open texts with a multitude of readings available to the viewer. At the same time realistic and artificial, Johns' paintings are admired by many but dismissed by others as uninteresting and as banal as the objects he depicts. For Johns his interest lies beyond symbolism, instead he claims merely to try and understand the familiar with a fresh outlook.