Born: 1836
Died: 1910
Gender: Male
Nationality: American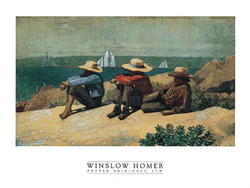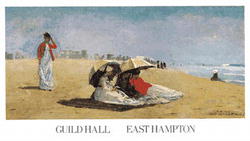 In his energy, the pristine freshness of his vision, and his simple sensuous vitality, he embodied the affirmative element of the American spirit as no preceding artist had. He did for our painting what Walt Whitman did for our poetry – he made it native to our earth and air." Lloyd Goodrich from Winslow Homer.
Winslow Homer was born in Boston and began his career with an apprenticeship to J.H. Bufford, a lithographer in Boston where he remained for three years. He then found a job as an illustrator for Harper's Weekly in 1857. While still working for the magazine, Homer went to drawing school in Brooklyn in 1860 and studied in night school at the National Academy of Design. Then in 1862, one of his assignments was to cover the Civil War. So he moved to Virginia and the resulting vignettes of life on the frontline proved highly successful.
After the end of the war, Homer travelled through France working in an Impressionist style. His oils and watercolours show a great interest in the effects of light on his subjects and he is also keen to convey a sense of narrative in his pictures. As well as Impressionism, his work has similarities to Japanese Art, particularly in his understanding of man's relation to his surroundings. 'Sunlight and Shadow' and 'Children on a Fence' show Homer's style at its most tender and perhaps most incisive.
Homer spent the last 25 years of his life in Prouts Neck in Maine. As he got older his paintings became more sombre and his preferred theme was the relationship between man and his surroundings, for example 'The Blue Boat'.