Born: 1867
Died: 1959
Gender: Male
Nationality: American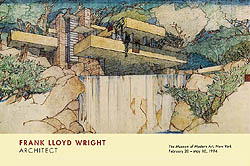 Born in Wisconsin to Unitarian parents of Welsh heritage, Wright was to become the most admired American architect of the20th Century. The landscapes of his youth were to inspire much of his work with the layers of eroded rock bluffs on the Wisconsin coast visible in his 'Prairie Style' for example. His fascination with architecture developed early on. After an apprenticeship to a minor architect named Silsbee, he found a draftsman post with Adler & Sullivan in Chicago at the age of 18. The chief partner, Louis Sullivan was to become his mentor, fostering in Wright a fine eye and a resistance to technological progress as opposed to traditional handicraft.
He remained with Adler & Sullivan for six years after which he went into business on his own and began work on his 'Prairie Houses'. The Robie House (1909) in Chicago was a notable early success, a design he modestly described as 'the cornerstone of modern architecture'. Between 1893 and 1901, 49 of Wright's building designs were built.
Wright was an enormously important designer and theorist whose views had considerable influence on the Arts and Crafts Movement. He believed architecture to be intimately connected to the land on which it was built, an idea he described as 'Organic Architecture'. This is best illustrated by his masterpiece 'Fallingwater' (1936-1939), a building that was built into a natural rock outcrop above a pristine waterfall giving the impression that it evolved from the cliffs and trees rather than having been constructed by man. The influence of Japanese design is clearly shown here with its lack of rigidity and profound understanding of the internal (culture) and the external (nature).
From the Imperial Hotel in Tokyo to the Solomon R. Guggenheim Museum in New York, Wright's designs were monumental. He has become the godfather of modern architecture with a multitude of deeply impressive buildings allover the world.