Born: 1840
Died: 1916
Gender: Male
Nationality: French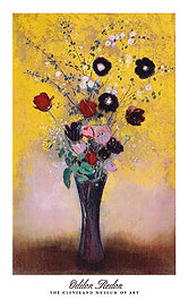 "…The artist… will always be a special, isolated, solitary agent, with an innate sense of organising matter." Odilon Redon.
Odilon Redon was born in Bordeaux and studied drawing early on under an artist named Stanislas Gorin. It was Gorin who introduced Redon to the principles of Romantic art, that is to make every line an expression of both sensibility and reason and reject all rules and formulae. Upon finishing school, Redon failed to be accepted for the architectural class of the Ecole des Beaux Arts in Paris and therefore remained in Bordeaux where he took up sculpture.
Around 1861 Redon was introduced to the writings of Flaubert, Baudelaire and Edgar Allen Poe, three authors who would be greatly influential on Redon's drawings. In 1864, however, he was accepted to the Ecole des Beaux Arts to study painting. The art establishment represented values he couldn't tolerate and he backed away from the system consigning himself to obscurity. Redon found guidance instead from Rudolphe Bresdin who had also rejected the official art world. He introduced Redon to Rembrandt and Dürer and taught him how nature can be utterly transformed by the broadness of one's imagination. So Redon turned to graphic art, working mainly in black and white, giving expression to the mysterious and the fantastic. Works in charcoal such as 'Mephistopheles' (c.1877) and 'Head of a Martyr on a Platter' (1877) contain references to Romantic literature, caricature and children's books, but they are strikingly original and, serving no satirical purpose, are quite disturbing. After recovering from a religious crisis and major illness in the 1890s Redon's outlook became much more optimistic. The sombre tones were replaced by bright colours and scenes of idealistic beauty often taking mythological themes as his inspiration.
Although remaining a very private person throughout his lifetime, his work was much admired by many including Henri Matisse. Later on the Surrealists regarded Redon as one of their greatest predecessors.