Born: 1841
Died: 1919
Gender: Male
Nationality: French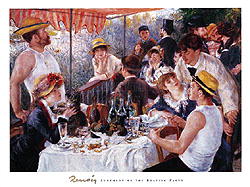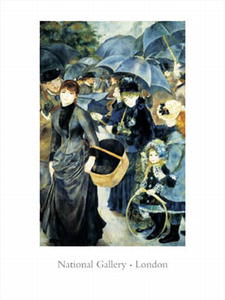 "Why shouldn't art be pretty? There are enough unpleasant things in the world." Pierre-Auguste Renoir.
Renoir was born in Limoges to his father Léonard, a tailor and mother, Marguerite, an ex-seamstress. In 1845 he moved to Paris and in 1854 he found work as a painter in a porcelain factory where he remained for four years. During lunch hours he would rush to the Louvre to copy great works of art, particularly the Rococo masters who were to influence him immensely. In 1862 at the Ecole des Beaux Arts, Renoir entered the studio of Gleyre and there met Monet, Sisley and Bazille, who were to become the leading Impressionists. The character of Impressionism emerged from the paintings of Monet and Renoir between 1867 and 1870.
Renoir struggled to achieve any degree of success until the late Seventies when the dealer Paul Durand-Ruel started buying his work regularly. He worked in the Impressionist style until a trip to Italy in 1881 led him to a crisper, more definite
technique. In 'The Umbrellas' (1884) one can see the transition in the more striking couple on the left in contrast to the more hazy figures on the right. As the decade continued, Renoir's paintings evolved into a freer more sensitive style using rich colours and unexpected brushstrokes, for example, 'Young Girl Carrying a Basket of Fish' (1889). Then later his style developed even further, becoming simpler and grander and he began to incorporate mythological subjects such as in 'The Judgement of Paris' (c.1913-1914). Throughout his career he had a number of favourite themes including pretty children, flowers, picturesque landscapes and women. He was a student of beauty and devoted himself to conjuring up the most pleasing images.
Renoir showed little interest in modernity, focusing his energy on the ideal and the perfect. He could capture the light of a scene beautifully, for example in one of his most famous paintings, 'Les Grandes Baigneuses' (1884-1887), the influence of southern light is shown by the pastel greens and blues of the landscape. While being attracted to the Impressionists for their grasp of lighting he found the movement limiting and wished to explore more deeply. In his final years despite being crippled with rheumatism, Renoir turned to sculpture using two assistants as his hands. His work is timeless and full of optimism and has inspired many artists since.