Born: 1882
Died: 1967
Gender: Male
Nationality: American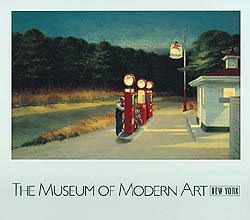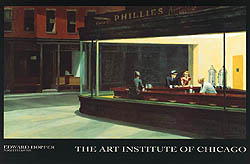 "Maybe I am not very human. What I wanted to do was to paint sunlight on the side of a house." Edward Hopper.
Edward Hopper was born in Nyack in New York State and was to spend the majority of his life in New York City, holding a studio on the top floor of 3 Washington Square North for over fifty years. He studied at the New York School of Art (the Chase School) as well as a brief stint in Paris. Besides exhibiting and selling a picture at the Armory Show in 1913, he spent the next ten years working exclusively as a commercial illustrator. Hopper's early work was clearly influenced by Impressionism in the European tradition, particularly characterised by his female nudes, the study of which continued throughout his career. Achieving considerable success from the Twenties onwards, he nevertheless lived a quiet and stable life with his wife Josephine.
Hopper is known as an American Scene painter. He takes pleasure in the commonplace, depicting such everyday scenes as motel rooms, filling stations, street scenes and cafeterias, this last example being defined by possibly his best known work, 'Nighthawks' (1942). He was preoccupied with the effect of light and shadow and the moods they evoked at different times of the day, making him in every sense an American Impressionist. As his career progressed, however, Hopper became fascinated with the confrontation between Nature and Civilisation, most noticeably in paintings such as 'Gas' (1940), where the tension is expressed through both colour contrasts and precise composition.
Hopper's reputation is marked by his profound vision of American life. In the words of Robert Hughes in his American Visions, "Edward Hopper was the quintessential realist painter of 20th century America. His images have become part of the very grain and texture of American experience, and even today… it is all but impossible to see America without some refraction through them." Rarely developing narratives in his work, he was primarily concerned with the struggle between man and his surroundings. In his highly formal compositions, Hopper was able to convey a character's complex inner life in direct correlation to his environment, often achieving a great sense of poignancy.