Born: 1885
Died: 1979
Gender: Female
Nationality: Russian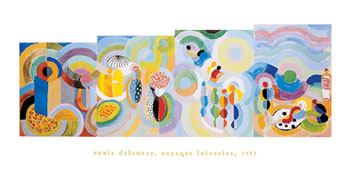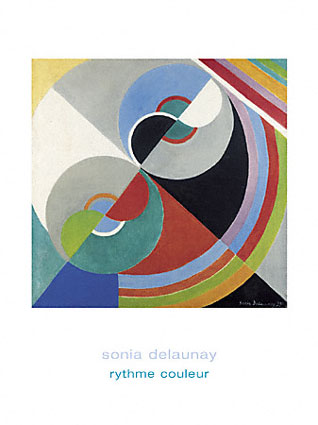 "I am attracted by pure colours. Colours from my childhood, from the Ukraine. Memories of peasant weddings in my country in which the red and green dresses decorated with many ribbons, billowed in dance." Sonia Delaunay-Terk.
Her original name was Stern but she adopted Terk from her rich uncle living in St. Petersburg. Max Liebermann, a friend of the family encouraged her to paint. She settled in Paris in 1905 and studied at the Academie de la Palette. She married Robert Delaunay in 1910. The couple developed Orphism, a movement which applied a new sense of lyricism to the Cubism of Picasso, Braque and the like. In 1912 she worked on her first Simultaneous Contrasts.
During the 1920s she designed hand-printed fabrics and tapestries which won her great acclaim. In 1925 she participated in the International Exhibition of Decorative Arts working in collaboration with the couturier Jacques Heim. During the Depression in the 1930s she returned to painting and became a member of the Abstraction-Creation association, a group of artists who worked from geometrical, non-representational elements as opposed to those with natural appearances. Following the death of her husband she continued to forge a successful career.
Although sometimes overshadowed by the brief yet sensational career of her husband, Sonia Delaunay enjoyed a strong reputation as one of the finest designers working in her day. She designed clothing for the world's most glamorous women and for the finest theatrical productions. In 1963, having donated 58 of her works and 40 of her husband's to the Musee National d'Art Moderne in Paris, she became the first woman ever to be exhibited at the Louvre.