Born: 1992
Gender: Male
Nationality: British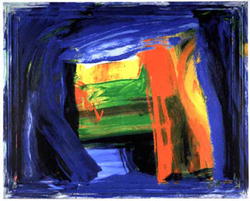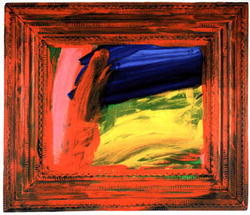 "I would like to paint pictures where people didn't care what anything was, because they were so enveloped by them.." Howard Hodgkins.
Howard Hodgkins was born in London and studied at the Camberwell School of Art in 1949 for a year, followed by the Bath Academy of Art from 1950 to1954. After finishing his education he taught at the Charterhouse School in Surrey for two years. This was followed by posts at the Bath Academy of Art (1956-1966)and the Chelsea School of Art (1966-1972). He was married to Julia Lane in1955 and with whom he has had two sons.
Hodgkins' first painting was 'Memoirs' (1949) which although stylistically is very different from his later works, does hint at some of the themes he was to investigate later on, specifically the concept of memory and there collections of emotions. His favourite subjects include the interior, the portrait and scenes from everyday life. He aims to take snapshots from a person's life and represent the fleeting thought, movement or feeling in his painting. This is in the vein of Intimism, a movement that also included Matisse, Bonnard and Vuillard. His early work, however, suggested a sense of claustrophobia and unease, as if the artist desired to be elsewhere. With later paintings such as 'Egypt' (1983-1984) he became more open as he travelled extensively and experimented with new ways of representing the natural world. He was searching for new ways to convey his perception of reality, for example, 'Mrs K.' (1966-1967) describes the idea of a person rather than an exact replication of the image of a person. He uses bright colours and frequently incorporates traditional wooden frames into the painting. He painted on a small-scale at first, but in the1980s began producing much bigger works.
Hodgkins covers a vast range of emotions in his work from the spectacular, 'When did we go to Morocco?' (1988-1993) with its vivid and energetic colouring to the deeply melancholic, 'Sunset' (1990-1993) which features dark and heavy brushstrokes overwhelming the bright colours beneath. He tries to describe feelings and it has been the subject of much debate as to how far he succeeds. He certainly has a reputation as one of the finest colourists in contemporary art and his standing in the art world is beyond doubt. He has been a Trustee of the National Gallery and the Tate Gallery and in 1985 won the Turner Prize. He was knighted in 1992.