Born: 1862
Died: 1918
Gender: Male
Nationality: Australian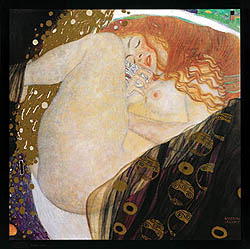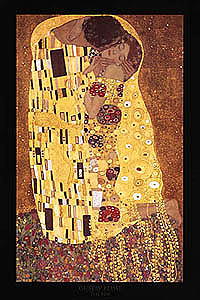 "The water-lily grows by the lake. It is in bloom. The yearning for a handsome man is in her soul." Gustav Klimt.
Gustav Klimt was born in Baumgarten, a country suburb of Vienna, and was the oldest son among seven children. Early on in his career he achieved great academic success as a painter of elaborate decorative interiors, but he soon became impressed by the Impressionist, Symbolist and Art Nouveau movements. In opposition to the conservative values espoused by the Viennese Artists' Association Klimt, among others, set up the Sezession in 1897. (This trend was first established in Munich in 1892 by Franz von Stuck and Wilhelm Trübner and others followed later such as Max Lieberman presiding over the group in Berlin).
Klimt painted a mural for the Vienna University on 'Jurisprudence, Medicine and Philosophy' at the turn-of-the-century but it received heavy criticism for its incendiary content and official commissions were few and far between after this. Klimt's avant-garde tendencies, however, were admired by many and he was frequently commissioned to produce portraits, which he did so depicting his subjects in a variety of allegorical themes. He was fascinated with the female form. Paintings such as 'Judith I' (1901) show the female subject as a figure of both mystery and intense sensuality. In his most famous work, 'The Kiss' he combines this depiction of womanhood with elaborate decoration in golds and silvers. The figures are draped in a flat mosaic-patterned robe, rich in texture and colour, conveying a sense of passion as well as wealth.
Klimt's work is still highly regarded, with 'The Kiss' being one of the most celebrated works of the time. His lustrous designs and supreme craftsmanship have influenced numerous artists and designers. His use of rich textures and strong colours was remarkable at the time and still remains extraordinarily powerful today.