Born: 1828
Died: 1882
Gender: Male
Nationality: English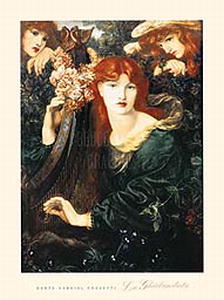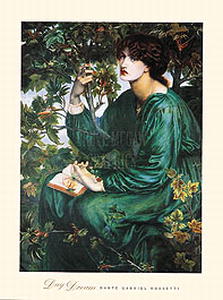 "For [Rossetti], the world of the imagination and the world of natural appearance were two distinct entities not to be confused. That a self-created world of the imagination can readily become too claustrophobic and too incestuous for comfort unless its creator is far-sighted and outward-looking, did not concern him." Brian & Judy Davis in Dante Gabriel Rossetti – an alien Victorian.
Dante Gabriel Rossetti was born to a distinguished family that excelled in literary endeavours. His father was an exiled Italian patriot and Dante scholar, his sister was a poet, his brother a critic. Rossetti was divided by poetry and art as his prime concern, in the end choosing painting as his profession but continuing to write poetry throughout his lifetime. In 1848 together with Holman Hunt and John Everett Millais he formed the Pre-Raphaelite Brotherhood. 'Girlhood of Mary Virgin' (1849) was the first work to bear the new movement's initials but despite receiving excellent reviews, the Brotherhood in general was harshly criticised leading Rossetti to rarely exhibit his work again.
In 1860 Rossetti married Elisabeth Siddal who was to become the model for many of his drawings. Her pale complexion and melancholic demeanour entranced him and her face became the archetypal image of the Pre-Raphaelite style. When she died from an overdose of laudanum two years later, Rossetti was devastated. He painted 'Beata Beatrix' (1864) in her memory. Over the last two decades of Rossetti's life he
returned to oil painting and soon found a new model in William Morris's wife Janey, to whom he would eventually fall in love. Together with Morris and Edward Burne-Jones, the decorative arts company Morris & Co was founded. But with Rossetti's feelings growing ever stronger for Janey the group soon parted ways. His final years were spent as a recluse, tending a range of unusual animals, and fighting a losing battle against drug and alcohol addiction.
Despite Rossetti's reluctance to exhibit his work in public, his drawings and paintings were extremely influential. The appearance of his models particularly Janey Morris with her flowing locks, sensuous pout and beguiling eyes were to entrance the Symbolists. His medieval settings were instilled with a great sense of romanticism and this appealed to the decadent tastes of artists at the turn-of-the-century. His work is still widely displayed and his position as one of the leading Pre-Raphaelites is irrefutable.