Born: 1923
Died: 1994
Gender: Male
Nationality: American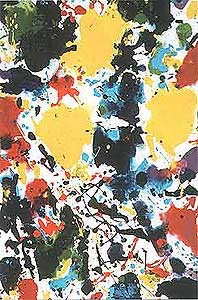 "The Japanese artist, like the Abstract Expressionist, sees the working process as eliciting a new consciousness that becomes the work, and Francis found himself closely attuned to Japanese aesthetics." Peter Selz.
Sam Francis was born in San Mateo, California and studied botany, medicine and psychology at the University of California at Berkeley from 1941 to 1943. While serving in the US Air Force he injured his spine in a plane crash and was bedridden for several months with spinal tuberculosis. It was during this time that he began to paint landscapes and views of the sky, eventually leading to his first abstractions in 1947. Francis studied with David Park in San Francisco before returning to Berkeley to take an MA in Fine Arts in 1950. The same year he went to Paris to attend the Académie Fernand Léger where his style was heavily influenced by the Art Informel painters as well as the work of Jackson Pollock. In 1952 he had his first one-man show at the Galerie Du Dragon and this was soon followed by a number of group exhibitions.
In 1957 Francis embarked on a world tour taking in such places as Mexico, Thailand, India and Japan. It was Oriental Art that made a lasting impression on the artist. It was the way that the Japanese traditionally regard art as a meditative medium that inspired Francis. The lyrical qualities associated with this form can be seen in 'The Whiteness of the Whale' (1957) for example. Throughout the Sixties Francis returned numerous times to Japan and exhibited in Tokyo and Osaka. He was commissioned to produce a 26-foot-long mural for the Segetsu School of Sofu Teshigahora and, becoming fascinated with the possibilities of wall-painting, completed a number of other murals for places such as the Chase Manhattan Bank in New York (1959) and the Nationalgalerie in Berlin (1969-1971).
In 1961 Francis returned to California, first Santa Barbara and then Santa Monica. As well as his mural work he continued to paint with the Japanese influence leading him to the development of a style known as Tachisme, in which free-flowing oil paint is allowed to drip down the canvas creating an accidental design. 'Meaningless Gesture' is a good example of this; the canvas is saturated with light, cloud-like forms with thin streams of paint raining down.
Sam Francis has had exhibitions around the world and is highly respected. His paintings, taking Oriental mysticism as his inspiration, are beautifully rendered with the thin texture of his paint and frequent contrast of colour and void. Besides paintings and murals, he has explored a number of media, perhaps most sensationally his painting in 1966 produced by five helicopters releasing coloured pigments into the air.