Born: 1928
Gender: Female
Nationality: American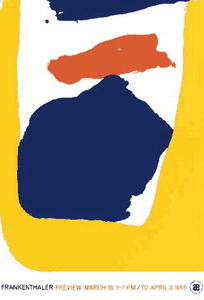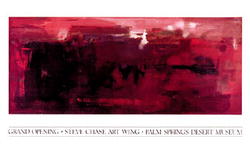 "Pictures are flat and part of the nuance and often the beauty or the drama that makes a work, or gives it life… is that it presents such an ambiguous situation of an undeniably flat surface, but on it and within it an intense play and drama of space, movements, light, illusion, different perspectives, elements in space." Helen Frankenthaler.
Helen Frankenthaler was born in New York where she was to spend most of her life. She studied at a number of art schools and was taught at one stage by Hofmann. By 1950 she had met many of the main figures of Abstract Expressionism.
Inspired by the 'all-over' style of painting made famous by Jackson Pollock, Frankenthaler produced 'Mountains and Sea' in 1952. In this she developed Pollock's drip technique by pouring and running very thin paint onto canvases laid on the floor. According to the critic, Clement Greenberg, this painting was the 'first monument of Post-Painterly Abstraction', it is certainly one of the most important works in the 'Colour-Field' style. The painters Morris Louis and Kenneth Nolan were deeply impressed by Frankenthaler and began to experiment with the techniques she was employing. By 1962 she changed from oil to acrylic painting allowing stronger colours
and increased vibrancy, for example, 'Interior Landscape' (1964). Since 1960 she also worked in ceramics and made aquatints, lithographs and woodcuts, also in 1972 she made her first sculpture.
Throughout her career, Helen Frankenthaler won a number of awards and distinctions. The stain technique she made famous is still an integral part of her work and it can be seen running through her entire oeuvre. Although the paintings are abstract, a strong suggestion of landscape is often apparent, and they have been praised for their lyrical qualities.