Born: 1936
Gender: Male
Nationality: American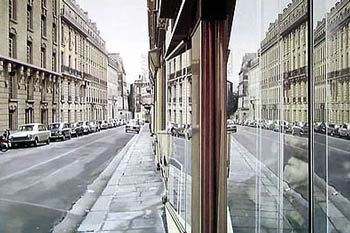 "He presents the city as a visual spectacle, usually in bright light, so that even the garbage looks glossy." Ian Chilvers from The Oxford Dictionary of 20th Century Art.
Richard Estes was born in Kewanee, Illinois and studied at the Art Institute of Chicago from 1952 to 1956. From 1959 onwards he made New York his home.
Estes started out as a graphic artist, not concentrating on his painting full-time until 1966. His early work focused mainly on people but in 1967 the urban landscape became his main interest. By 1968 he had his first one-man exhibition at the Allen Stone Gallery in New York and by the end of the decade he had already become known as a leading figure. Superrealism or Photorealism are the terms used to describe his work and that of related artists. Names associated with this movement include Chuck Close (who specialises in enormous portraits), Howard Kanovitz, Robert Cottingham and Audrey Flack. The Superrealists' aim was to depict their subjects with immense attention to detail. Their subject matter included American diners and trucks, gum-ball machines and neon signs – all typifying images of both urban and suburban life in 1970s America. Estes, unlike most Superrealists, used traditional brushes rather than airbrushes to achieve his depiction of reality, often using acrylic paint and then oils. He also made very elaborate screenprints.
Estes presents the city as visual spectacle. The landscape of New York was clearly inspirational to the painter. The movement is a direct descendant of Pop Art with its depictions of the commonplace, except the humour of Pop Art is distinctly lacking in Superrealist works with their cool and impersonal points of view. Many critics see paintings of this type as admirable only for their displays of technical prowess, with very little else to appreciate.