Born: 1914
Died: 1988
Gender: Male
Nationality: American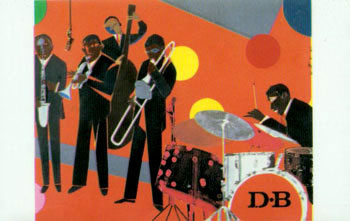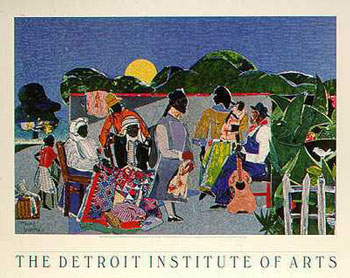 Romare Bearden was born in Charlotte, North Carolina but was brought up in New York at the time of the Harlem Renaissance. Great jazz figures such as Duke Ellington and Fats Waller were regular visitors to the Bearden household. He studied mathematics at New York University from 1932 to 1935 then joined the Art Students' League in 1936 where he studied under George Grosz for a year. He enlisted in the US Army and fought in the Second World War. Then for four years from 1950 he lived and studied abroad.
Upon returning to the United States in 1964 his interest and depiction of the black experience became more focused, particularly in reaction to the Civil Rights Movement and his new found interest in black Caribbean culture. He produced abstract collages which he called 'projections' using newspaper and photographic images laid flat on masonite boards with various media such as inks, temperas and paper scraps surrounding them. The method is similar to that of Stuart Davis whose work was often seen as a pictorial equivalent of jazz music. Bearden's work is colourful and often
immensely powerful. He was capable of producing works both full of life such as 'Wrapping it up at The Lafayette', and also works infused with a great sense of tenderness in 'The Piano Lesson' for example.
As well as painting, Bearden lectured in Afro-American Art and wrote a number of articles and co-authored two books on the subject, namely The Painter's Mind (1969) with Carl Holby and Six Black Masters of American Art (1972) with Harry Henderson.