Born: 1833
Died: 1898
Gender: Male
Nationality: British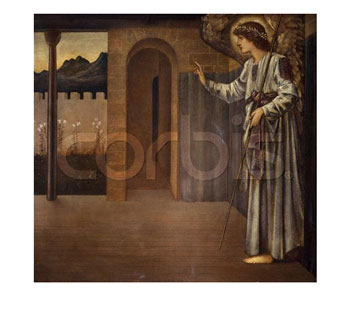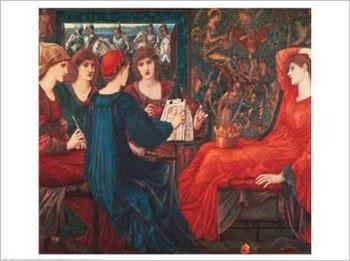 "I mean by a picture a beautiful romantic dream of something that never was, never will be – in a light better than any light that ever shone – in a land no one can define or remember, only desire – and the forms divinely beautiful." Sir Edward Coley Burne-Jones.
Burne-Jones was born in Birmingham and studied divinity at Exeter College in Oxford in 1853. It was here that he discovered the Aesthetic Movement. He was inspired by Pre-Raphaelite painters such as John Everett Millais and Holman Hunt, and by 1855 on a tour of North France with William Morris, he decided to become a painter. A year later he left Oxford without a degree and moved to London where he studied under Dante Gabriel Rossetti who was to be the prime influence over his career.
Between 1857 and 1877, Burne-Jones worked on many commissioned paintings. He enjoyed regular trips to Italy and in 1861 co-founded Morris, Marshall, Faulkner & Co. Burne-Jones designed stained glass, tapestries and tiles, objects which were to play important decorative roles in his paintings. The company closed down in 1875 and two years later with an exhibition at the Grosvenor Gallery, Burne-Jones's work caused a sensation. Working in a style inspired by the Pre-Raphaelites, Burne-Jones's paintings depicted medieval and mythical subjects. Ethereally beautiful women and knights in shining armour often featured in his work alongside many Renaissance features. Recurring themes of romance, chivalry, courtly love, the pursuit of beauty and the battle between good and evil grace his work and are evident in pieces such as 'Temperantia' and 'An Angel'.
Burne-Jones produced a vast amount of work throughout his career. He achieved great success in his day and was influential on a number of movements such as the French Symbolists. His classical style, highly conscious of aesthetic values, however, was seen as outmoded by the outbreak of the First World War in 1914. The Victorian values represented in his paintings were seen as sentimental and the heroines with their submissive postures were seen as lacking the toughness of the modern emancipated woman. Burne-Jones though was an idealist, he was in pursuit of perfection and this quest led him to the days of knights and maidens. There is a sensuous beauty in his finest works, and it is this which ensures his work continues to be popular.