Born: 1901
Died: 1985
Gender: Male
Nationality: French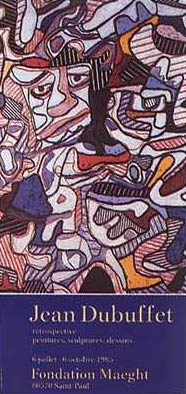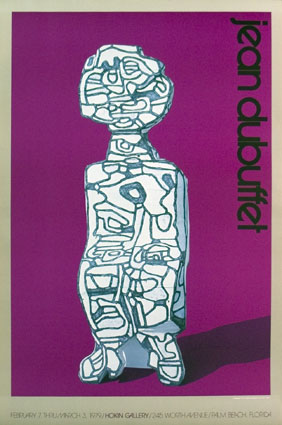 "The most simple and common spectacles appeal to me the most. I am a tourist of a very special kind: what is picturesque disturbs me. It is where the picturesque is absent that I am in a state of constant amazement." Jean Dubuffet.
Jean Dubuffet was born in Le Havre, the son of a wealthy wine merchant. He attended the Lycee of Le Havre then in 1918 he went to study at the Academie Julian where he remained for six months. He had doubts, however, about the value of art and abandoned his burgeoning career in 1924 not resuming until 1942. His first one-man exhibition took place in 1945.
He was fascinated with representing urban scenes, for instance, 'Man With A Hod ' (1956). He called his style Art Brut (Raw Art), similar to Outsider Art in which paintings and sculptures are executed by those beyond the system such as prisoners, mental patients or recluses. He was an experimental artist in the way he found new ways of applying materials to his artwork. For example, he used sand or plaster in his paintings and incorporated items discarded on the street into his sculptures.
Dubuffet was obsessed with materials and with creating works outside any accepted understanding of what constitutes art. He was closest to the Surrealists and the spirit of the Naive Artists. In pieces such as 'The Hourloupe', which begins as a doodle and extends into a free-form journey into painting, sculpture and relief, he presented works which were fuelled by his subconscious and free from the burden of technical perfection.