Born: 1841
Died: 1893
Gender: Male
Nationality: British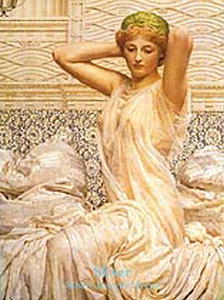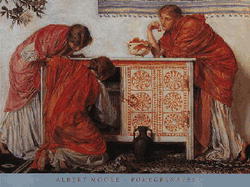 "[Moore has a] genuine feeling for the juxtaposition and interrelation of colour." Sir Joshua Reynolds.
Albert Moore was born in York, England, the son of a portrait painter and brother of the painter and watercolourist Henry Moore. Albert moved to London after the death of his father and joined the Academy School. At this time his style tended towards that of the Pre-Raphaelites, merging modern symbolism with romantic imagery.
By the 1860s he had turned to classical subjects. Inspired by a number of trips to Rome, the influence of classical sculpture dominated Moore's output. Single Grecian figures or groups posed in an elaborate fashion with detailed attention to the diaphanously draped fabric became regular features of his work. As well as subject matter he was interested in the correlation of colour in his paintings, leading him to reproduce many compositions with different colour patterns. Moore worked closely with Whistler throughout his career, sharing many ideas and techniques until Moore's death in 1893.
Moore's close friends organised a memorial retrospective after his death, it was his first exhibition. Paintings such as 'The Dreamers' and 'A Sofa' remain two of his most famous works.