Born: 1912
Died: 1956
Gender: Male
Nationality: American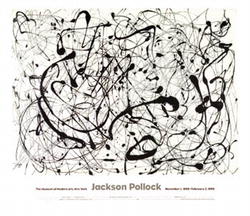 "When I am in my painting, I'm not aware of what I'm doing. It is only after a sort of 'get acquainted' period that I see what I have been about [….] The painting has a life of its own. I try to let it come through." Jackson Pollock.
Jackson Pollock was born on a sheep ranch in Cody, Wyoming and grew up in Arizona and California. In 1929 he studied painting at the Art Students League under Thomas Hart Benton. In the Thirties Pollock started painting in the Regionalist style, influenced by Mexican muralist painters and various aspects of Surrealism, such as the use of mythical figures to represent the subconscious. Early works include 'Pasiphae' (1943) and 'Mural' (1943). By the mid-Forties Pollock's work was entirely abstract.
Pollock's best known works are created by the 'drip and splash' style pioneered by Surrealists like Andre Masson and Max Ernst, and employed by artists such as Hans Hofmann in his paintings of the early Forties. However, Pollock's approach was quite different to the rest. He fixed his canvas to the floor or wall and, holding the brush or stick a foot or so away, threw lines of paint towards it, allowing chance to direct the
evolution of a painting. He then manipulated the paint with an assortment of instruments, sometimes achieving textured effects using elements such as sand or broken glass. The critic Harold Rosenberg termed the phrase 'Action-painting' to describe this radical technique.
Another term applied to Pollock is the 'All-Over' style as seen in his 'Number 1' ('Lavender Mist') (1950) for example. In this, the whole canvas is without any point of emphasis, as Pollock abandoned any traditional notion of composition. Indeed, the design of his paintings bore no relation to the dimensions of the canvas, for in the final work the canvas often had to be trimmed to suit the image.
Although these paintings are Pollock's best known they only counted for four years of his work. Soon after, totemic images began to reappear. However, by 1954 his alcoholism and depression ended his career and he died in a car crash two years later. The intensity and scale of Pollock's finest abstract works led him to be regarded as one of the most important American artists of his day, and his paintings remain incredibly popular to this day.