Born: 1819
Died: 1904
Gender: Male
Nationality: American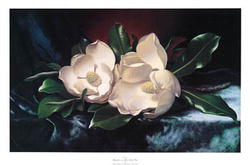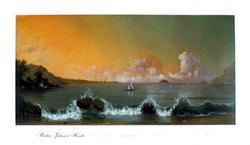 Martin Johnson Heade was born in Lumberville in Pennsylvania and studied portrait painting under the Quaker artists Edward and Thomas Hicks. He travelled widely for a number of years supporting himself as a professional portrait artist.
Having moved to New York in the 1850s Heade soon moved away from portraits turning to landscape scenes instead. He was particularly interested in experimenting with the effects of coloured light upon a painting, a concern shared with artists such as John C. Kensett, Fritz Hugh Lane and Sanford Gifford. The Luminist School of Painting as it was called was a popular movement at the time and can be seen as a key stage in the development towards Impressionism.
In 1863 Heade moved to Brazil, drawn to the country by its magnificent light. He produced a large number of flower paintings particularly favouring magnolias and orchards, as well as studies of birds, all done in the Luminist style. Returning to the United States in 1885 Heade settled in Florida where he continued painting seascapes until his death.