Born: 1887
Died: 1986
Gender: Female
Nationality: American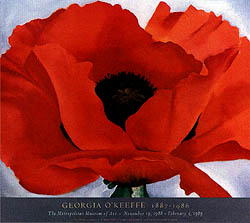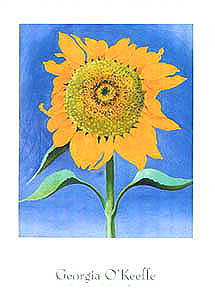 "Finally, a woman on paper." Alfred Stieglitz.
"O'Keefe was a 'natural': not a naive or primitive painter by any means, but one who seemed to be instinctively in touch with the vibrations of the cosmos." Robert Hughes.
Georgia O'Keefe was born near Madison, Wisconsin, the daughter of farmers. In 1905 to 1906 she studied at the Art Institute of Chicago and for a further year at the Art Students League in New York. She worked as a commercial artist for the following two years then taught at art schools in South Carolina, Texas and Virginia. During a brief stint at New York's Columbia University in 1912, O'Keefe met a teacher named Arthur Dow who introduced the artist to Pont-Aven painting, a style that emphasises flat abstract arrangements of colour and bonding line. Both this style and Japanese art were to inspire much of her work throughout her career.
In 1915 to 1916 some of O'Keefe's abstract charcoal drawings impressed Alfred Stieglitz, a Texas based photographer, editor, writer, publisher and art dealer. He was to give her her first one-woman show a year later with work such as 'Sky Above Clouds' representing the sparse yet luminous landscapes of the Texas plains. O'Keefe moved to New York in 1918 with the prospect of increased financial support and in 1924 married Stieglitz. In the Twenties, her work became more representational and less naturalistic, though still showing a fascination with the abstract forms of objects. Some of her best known work includes her flower and plant forms such as 'Black Iris' (1926), an elegant work construed by many as being sexually suggestive though this was denied by the artist. She was also inspired by the townscapes of New York, painting in a style close to Precisionism, a movement which depicted urban and industrial scapes with smooth, sharply defined imagery.
From the 1930s O'Keefe spent her winters in New Mexico, settling there in 1946 after the death of Stieglitz. The desert landscape is represented in much of her work, particularly her interest in bleached animal bones, as typified in 'Mule Skull and Turkey Feathers'. She travelled widely in the 1950s and the views of the earth, sky and clouds she saw out of aeroplanes were to appear in many of her later paintings. After a major retrospective at the Whitney Museum in New York in 1970, O'Keefe became partially blind and little work was produced thereafter.
O'Keefe's work has led her to become an icon of feminism. Her paintings, from the large close-ups of flowers to the American landscapes, all display a sense of elegance and vitality and show a deep connection with her surroundings. Marsden Hartley, a painter, admired a certain 'purity' in her work referring to "the quality of a thing or a thought when it has been released from all irrelevant influences."