Born: 1483
Died: 1520
Gender: Male
Nationality: Italian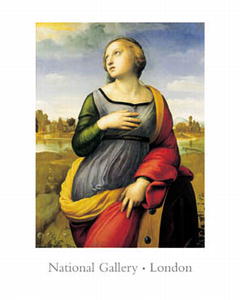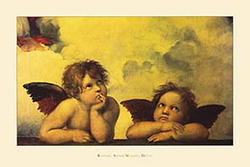 "It is from his having taken so many models that he became himself a model for all succeeding painters: always imitating and always original." Sir Joshua Reynolds.
Raphael was born in Urbino. His father was highly influential on his son's painting but after his death when Raphael was only 11, Pietro Perrugino probably became his biggest influence. Raphael worked in Tuscany and Umbria and was an independent artist by 1500. One of his first major commissions was the 'Coronation of St. Nicholas of Tolentino' (1500-1501) for S. Agostino, Città di Castello.
From 1504 to 1508 Raphael worked mainly in Florence. His work became grander in scale, possibly due to the influence of Leonardo and Michelangelo. At this time he began to paint about religious themes such as 'Ansidei Madonna' (1505) and Madonna del Baldacchino' (1505). In 1508 Raphael's reputation was such that an invitation was extended to him from Pope Julius II to paint frescos in the Vatican. The Stanza della Segnatura was completed in 1511 and after its completion Raphael was commissioned to do two more apartments. By 1514, however, he was so in demand that an assistant was needed, Giulio Romano, to help with his work.
A huge number of elaborate works were completed or guided by Raphael. His work in the Vatican is a triumph, in the painting 'The School of Athens' (1509), he depicts the philosophers Plato and Aristotle set in a dramatic architectural context, while in 'Disputà' (1510?) the doctors of the church appear while the saints and martyrs stand above the Trinity. These paintings are marked by their huge scale and also the gracefulness with which they were executed. In 'Galatea' (1511-1512) Raphael produced his most accomplished work for this wall fresco in the Villa Farnesina. As well as frescoes, many of his projects involved designing everything from the sculpture, the stucco work, the mosaic and the architecture. He also painted many portraits, including the 'Baldassare Castiglione' (c.1515) and the 'Sistine Madonna' (c.1512-1514). He showed a great mastery of subtle characterisation and was skilled in his use of rich colours. In 1514 Raphael became architect to St. Peter's and, besides Bramante, stands as one of the greatest High Renaissance artists.
Upon his death, the Pope was said to have been greatly upset; he said he was considering making Raphael a cardinal. The body of work he left was impressive, though it is difficult to assess which were produced solely by him without the help of assistants. Yet until the late 19th Century he was regarded as the finest artist to have lived. His reputation lies in his ability to express the basic doctrines of the Christian Church through figures that have a physical beauty worthy of Greek and Roman classical antiquity. He became the authority on painting techniques only to be used as a figure of revolt by the Pre-Raphaelites. His classical paintings are seen as some of the finest ever created and his work proved inspirational to such artists as Carracci, Poussin and Ingres.