Born: 1525
Died: 1569
Gender: Male
Nationality: Dutch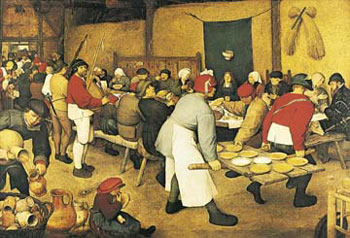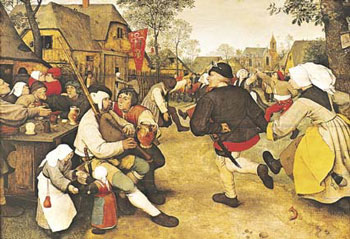 "Historically speaking, Bruegel is one of the greats; and to place him by the side of Jan van Eyck and of Rembrandt is to emphasize the essentials of Netherlandish painting." Max J. Friedländer, art historian.
Generally known as Pieter Bruegel the Elder, he was the first in a great line of Flemish artists. He studied under the leading artist Pieter Coecke van Aelst and was accepted as a master in the Antwerp Painter's Guild in 1551. Around this time, Bruegel travelled to Italy where he completed a number of paintings, mostly landscapes. He returned home in 1553 and settled in Antwerp. Over the next few years, Bruegel designed a series of landscapes engraved and published by Hieronymous Cock. Bruegel produced a number of drawings for Cock including parables such as 'The Big Fish Eat Little Fish' (1557).
In 1563 he moved to Brussels and married van Aelst's daughter Mayken. Breugel's association with the van Aelst family drew him to the artistic traditions of the Mechelen (now Malines) region, in which allegorical and peasant themes are widespread. Bruegel's paintings of this period depicted landscapes and scenes of peasant life, such as the famous painting 'Peasant Wedding Feast' (1567). Bruegel chose so regularly the subject of peasant life that he is sometimes referred to as 'Peasant Bruegel'. Towards the end of his life, his figures became bigger and bolder such as in 'The Blind Leading the Blind' (1568). Throughout his life Bruegel used everyday sayings and proverbs to draw personal and highly sophisticated moral commentaries on the condition of man.
Bruegel was well-known during his lifetime but it wasn't until the 20th century when his talent was truly recognised. He was influenced by Hieronymous Bosch yet forged his own distinctive style within the tradition of religious painting. The spirituality in his work is evident as he conveys a deep sense of understanding with his fellow man.