Born: 1958
Died: 1990
Gender: Male
Nationality: American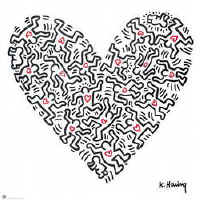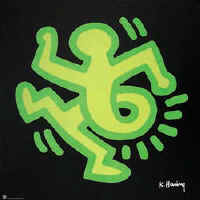 "I am trying to state things as simply as possible." Keith Haring.
Keith Haring was born in Kutztown, Pennsylvania and was prompted to draw from an early age mainly through cartoons on television. He studied at the Ivy School of Art in Pittsburgh where he began to silk-screen T-shirts. In 1978 he moved to New York to study at the School of Visual Arts. The burgeoning East Village club scene was to become his main inspiration.
In 1980 Haring took up Graffiti Art, at first decorating advertisements in the New York Subway with his marker pen and soon producing a series of narratives done in white chalk on the black billboard paper of unused advertising spaces. His choice of imagery was highly distinctive, for example incorporating modes of communication like televisions and telephones, references to nuclear energy, and featuring flying saucers at every opportunity. By mixing comic figures with political messages, Haring provoked
considerable debate both on street level and within the art establishment. Like Warhol, he embraced popular culture and was intent on breaking down the barrier between high art and low art. Haring worked in a number of different media including sculpture, posters and body painting, but they always featured his distinctive Day-Glo colours.
As his art became more prominent in the galleries and museums he caused more debate by purposely commercialising his own work. He reproduced his signature on a range of products and in 1986 opened his own retail stores in New York and Miami. The Haring style was adored by teenagers. He painted their skateboards and created a public message in the wall-painting, 'Crack is Wack' in 1986. That same year he even painted a section of the Berlin Wall.
Keith Haring's work was flamboyant and reflected the garish colours of Eighties fashions. However, far from being vacuous, his work was highly politicised. There is a lot of energy in his paintings and they have the power both to amuse and provoke. Comparisons can be made to Jean-Michel Basquiat, Haring's contemporary and another who died prematurely. Towards the end of Haring's life, he devoted himself to The Keith Haring Foundation, conveying the dangers of AIDS, which claimed another victim in the artist himself in 1990.