Born: 1904
Died: 1989
Gender: Male
Nationality: Spanish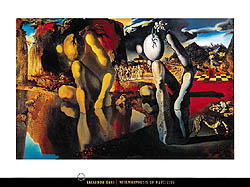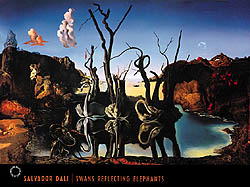 "I'll be a genius… Perhaps I'll be despised and misunderstood, but I'll be a genius, a great genius." Salvador Dalí.
Salvador Dalí was born in Figueras, in the Catalan region of Spain, and studied at the Ecole des Beaux-Arts in Madrid. His main influences came from metaphysical painters such as De Chirico and Carra and the realism of the Pre-Raphaelites and French 19th century painters. In 1927 Dalí exhibited in Madrid and Barcelona, gaining a reputation as one of the most promising painters of his generation. In 1928 Dalí visited Paris where he met Picasso and the Surrealists Miro, Masson, Ernst, Tanguy and Breton. Joining this group the following year he rapidly became the leading figure of the movement for the next ten years. In 1929 he made the Surrealist film 'Un Chien Andalou' with Buñuel.
Dalí's work of the Thirties, in line with the Surrealist mode of thinking, attempted to describe the unconscious. He took images culled from his dreams and fantasies and integrated these into natural environments. For example, 'Apparition of face and fruit-dish on a beach' (1938) depicts a dog's head, a fruit bowl and a human head emerging out of a beach landscape. A number of recurring images appeared in his work such as human figures with half open drawers protruding, burning giraffes and melting watches. Dalí named his technique 'critical paranoia', describing the delusional state one could create while aware that control of reason and will have been deliberately suspended. Dalí's art was a sensation, yet despite being the most recognised exponent of Surrealism, due mainly to his flamboyant and eccentric personality, he was thrown out of the movement by Breton in 1937. The reason was two-fold; firstly his art had become more traditional and secondly his political views, openly supporting General Franco, were not in accordance with the consensus Surrealist opinion. In 1940, Dalí left for the U.S. to have his first retrospective at the Museum of Modern Art in New York. From 1948 he split his time between Spain, Paris and New York, finally settling in Spain in 1955 where he became a world famous recluse. As well as his paintings and prints he was a sculptor, jewellery designer and set designer. As mentioned before, he also worked in cinema collaborating with Luis Buñuel and later Alfred Hitchcock.
Dalí is one of the most famous artists of the 20th century, yet there is much debate as to the actual quality of the work he produced. His paintings of the Thirties are generally well-respected but his later works are much criticised. His religious paintings in particular are often described as kitsch, for example 'The Crucifixion of St. John of the Cross' (1951), yet this remains incredibly popular amongst the public.