Born: 1901
Died: 1968
Gender: Male
Nationality: Ukranian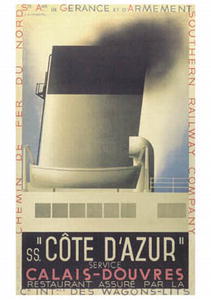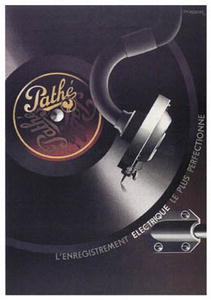 "A poster, unlike a painting, is not, and is not meant to be, a work easily distinguished by its 'manner' – a unique specimen conceived to satisfy the demanding tastes of a single more or less enlightened art lover. It is meant to be a mass-produced object existing in thousands of copies – like a fountain-pen or automobile. Like them, it is designed to answer certain strictly material needs. It must have a commercial fashion." Adolphe Mouron Cassandre.
Cassandre was born in Kharkov, Ukraine to French parents. He settled in Paris in 1915 and after a brief stint at the Ecole des Beaux-Arts he enrolled in Lucien Simon's independent studio followed by the Académie Julian. He worked at the Hachard printing house at the Place de la Madelaine in Paris up until 1922, eventually saving enough money for a studio. 'Au Bûcheron' (1923) was one of his first works in his distinctive style. It won the first prize at the Exposition Internationale des Arts Décoratifs in 1925 and it secured his reputation.
In 1927 Cassandre received orders for posters from the French railways as well as English and Dutch companies. By the end of the Twenties he had designed his first advertising typeface, Bifur, followed by the black and grey sanserif, Acier in 1930. In 1937 he completed his first all-purpose font, Peignot, exhibited at the World's Fair in
Paris and which is still in use today. In 1930 Cassandre founded the Alliance Graphique with Loupot and Moyrand and, during its five years, produced a large number of widely acclaimed posters. In 1936, following a successful retrospective at the Museum of Modern Art in New York, Cassandre began designing covers for Harper's Bazaar. After a brief spell in the French army, he continued his easel painting, begun while in New York. His work was exhibited at the Galerie René Drouin in Paris in 1942 and up until the mid-Fifties he neglected his poster art almost completely, continuing to work on his painting and spending a great deal of time on set and costume designs for the theatre.
Cassandre died in poverty and depression, but his achievements are considerable. Many of his posters remain highly distinctive, perhaps his most famous being, 'Watch the Fords Go By' (1937). His logo for Yves Saint Laurent, designed in 1963 is still one of the most recognisable images in contemporary society. He was concerned with precision and strong images. Many of his posters were in the figurative vein, but there is a definite Surrealist influence. He has had his work exhibited all over the world.