Born: 1893
Died: 1983
Gender: Male
Nationality: Spanish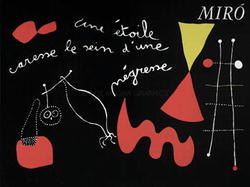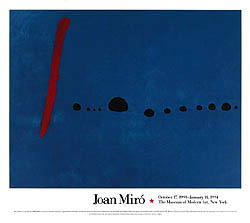 "I'd like to get beyond easel painting, which in my opinion pursues a petty aim, and find ways of getting closer, in terms of painting, to the broad mass of human beings who have always been in my thoughts." Joan Miró.
Joan Miró was born in Barcelona, in the Catalan region of Spain and studied painting at the Ecole des Beaux-Arts and at the Academie Gali. Like many of his contemporaries, Miró found it necessary to venture to Paris to complete his education. He first visited the French capital in 1919 and for the next 17 years spent every winter in Paris and summers at his family's farm outside of Barcelona. Miró was in Portugal with Delaunay during World War One before settling in Paris. He met with Picasso early on and through him and Gris became interested in the painting styles of Cubism and Fauvism. In 1924, Miró joined the Surrealists, a movement and philosophy to which he remained faithful throughout the remainder of his career.
'Harlequin's Carnival' (1924-1925) is Miró's first major adult work and it contains many of the characteristics that made up his distinctive vision. In 1940 Miró returned to Spain, escaping the German occupation of France and eventually settling in Majorca. A year later the Museum of Modern Art in New York devoted a retrospective exhibition to Miró and with this he achieved international recognition. From paintings such as 'Morning Star' (1940) to 'Woman, Bird' (1976) the Miró style was unmistakable. Using vibrant colours and bizarre forms Miró stayed true to the Surrealist ideology without ever submitting to obvious devices. His freely invented calligraphy of highly coloured forms derived from Breton. In 1944 he began making ceramics with the potter Josep Llorens Artigas and soon took up sculpture beginning with small-scale terracotta's and eventually making large-scale pieces for casting in bronze. Miró had always wanted to have his work widely recognised and in the USA he began to achieve this with a number of murals, for example one at the Terrance Hilton Hotel in Cincinnatti and another at Harvard University. Later on he took up printmaking and in his eighties began stained glass window design.
Joan Miró is recognised as one of the greatest of all Surrealist and Abstract artists, yet unlike the other Surrealists known for their flamboyant personalities, Miró was an understated figure devoted purely to his work and his public. He was fascinated with subverting traditional forms such as humans and animals and finding new ways of depicting them. In his own words, Miró was driven by his need "to rediscover the sources of human feeling".