Born: 1877
Died: 1953
Gender: Male
Nationality: French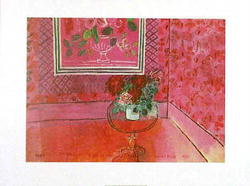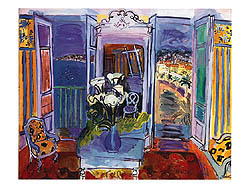 "What I wanted to do was to carry my investigations further than those of the Impressionists. The Impressionists looked for the inter-relationships of flecks and patches of colour, and that in itself was good. Now, however, we need something more than the satisfaction of vision alone; we need to create the world of things unseen." Raoul Dufy.
Raoul Dufy was born in Le Havre, Normandy, already one of the most lively centres of contemporary painting. His training was initially strictly academic, first at the Ecole Municipale des Beaux-Arts du Havre (where he met Othon Friesz and Georges Braque) and at the Ecole des Beaux-Arts in Paris.
In 1901 he first exhibited his work at the Salon des Artistes Français. The following year he graduated to the Salon des Indépendants. With paintings such as 'The Courtyard of the Louvre' (1902), Dufy had shed all traces of Impressionism and Symbolism and had found his own voice. In 1905 to 1906 Dufy worked in the Fauvist movement, in which colour was one of the most important factors to many though design was the primary concern for Dufy. He was intent on depicting the 'unseen'. He also encountered other challenging movements and centres such as Cézanne's Provence and Expressionist Germany, but being sure of his direction was never seduced by them, although he was certainly open to experimentation.
Dufy invented rather than represented nature. He was extraordinarily optimistic and this is evident in his airy paintings. He understood the world in terms of decorative art and indeed turned his attention to textile design for a while, which like his paintings were a tapestry of clear colours. The figures in his paintings are often like characters in a play, for example 'Harlequin in the Venetian Manner' (1939) in which a particular figure takes centre stage and directs the emotions of the audience. In this way he found great joy in depicting public events with their pomp and ceremony, such as 'The Coronation of King George VI' (1937). Many argue that his paintings lack substance, others say that they simply express a delight in life.