Born: 1860
Died: 1939
Gender: Male
Nationality: Norwegian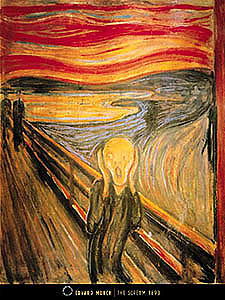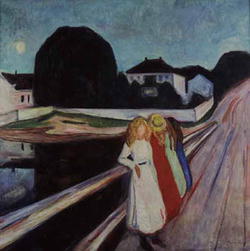 "People's souls are like planets. Like a star that rises from the darkness – and meets another star – only to disappear again into darkness – it is the same when a man and woman meet – drift apart – light up in love – burn up – and disappear each in their own direction…" Edvard Munch.
"I have always worked best with my paintings around me. I placed them together and felt that some of the pictures related to each other through the subject matter. When they were placed together a sound went through them right away and they became quite different from when they were separate they became a symphony." Edvard Munch.
Edvard Munch was born in Loten, Hedmark in Norway. Munch's childhood was traumatic, his father was almost fanatically religious and his mother and eldest sister died prematurely. The difficulties of his early years were to affect his character throughout his life. In 1881 after a failed period training to become an engineer, he enrolled at the Royal School of Art and Design where hepainted his first self-portrait and managed to sell two paintings. By 1884 he was already part of the bohemian world of Christiana (now Oslo). In 1885 he went to Paris for the first time where he was heavily influenced by the Impressionists and Symbolists particularly Gauguin with his simplified forms and non-naturalistic colours. Munch exhibited many of his paintings during this period. In 1892 he exhibited at the Kunstlerverein (Artists' Union) in Berlin, where his work proved so controversial that the show had to be closed. Now famous, Munch moved to Berlin the same year where he lived on and off until 1908.
In the 1890s Munch embarked on his 'Frieze of Life' which he described as "a poem of life, love and death". Informed by his dark neuroses, with themes such as jealousy, sickness and sexual desire, his paintings make up an intense depiction of extreme psychological states. The most famous of his paintings is 'The Scream' (1895), a disturbing depiction of anxiety and melancholy. Munch went on to translate many of his paintings into etching, lithography and woodcut. In 1908, after prolonged heavy drinking, overwork and a failed love affair, the artist suffered a complete mental breakdown and he entered a clinic for the next eight months. After this his work changed dramatically. The intense emotions disappeared and his paintings became far more extroverted, characterised by brighter colours and a renewed vigour. He painted a series of large oil paintings for the University Hall of Oslo (1910-1915) conveying an optimistic perspective on nature, science and history. Thereafter, however, he took up the life of a recluse, and his work once again became fuelled by his profound sensibilities. The last of his self-portraits, 'Between the Clock and the Bed' (1940-1942) portrayed his ailing body teetering on the brink of eternity.
Edvard Munch is one of the most distinctive painters of his generation. The emotion instilled in his work is deeply affecting and frequently quite disturbing. Plagued with inner demons that tormented him through much of his career, Munch effectively used his paintings to give voice to his neuroses. His influence was strong in Scandinavia and Germany particularly, with van Gogh and himself being seen as the two best exponents of Expressionist art.