Born: 1475
Died: 1564
Gender: Male
Nationality: Italy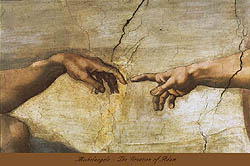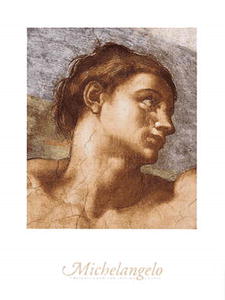 A painter, on panel and in fresco, a sculptor, architect and poet, Michelangelo Buonarroti was the first artist recognised by contemporaries as a genius.
He is a central figure in the history of art: one of the chief creators of the Roman High Renaissance, and the supreme representative of the Florentine valuation of disegno
As a poet and a student of anatomy, he is often cited as an example of the 'universal genius' supposedly typical of the period. His professional career lasted over 70 years, during which he participated in, and often stimulated, great stylistic changes.
The characteristic most closely associated with him is terribilità, a term indicative of heroic and awe-inspiring grandeur. Reproductions of the Creation of Adam from the Sistine Chapel Ceiling or the Moses from the tomb of Julius II have broadcast an image of his art as one almost exclusively expressive of superhuman power. The man himself has been assimilated to this image and represented as the archetype of the brooding, irascible, lonely and tragic figure of the artist. This popular view is drastically oversimplified, except in one respect: the power and originality of his art have guaranteed his prominence as a historical figure for over 400 years since his death, even among those who have not liked the example he gave.
He was born in Florence in the 1470s and trained first as a painter with Domenico Ghirlandaio, and then as a sculptor under the patronage of Lorenzo de' Medici. The 'Manchester Madonna' is probably an unfinished work from Michelangelo's youth.
In 1496 Michelangelo went to Rome, where he carved the 'Pietà' for St. Peter's. The theme of the dead Christ recurs throughout his work, and is the subject of his early 'Entombment'.
Back in Florence in 1501 he began work on many sculptural and painterly projects, most of which were left unfinished in 1505, when he was summoned to Rome to begin work on a sculpted tomb for Pope Julius II.
From 1508 to 1512 he painted the vault of the Sistine Chapel with scenes from the Old Testament. Immediately celebrated, the Sistine Chapel ceiling, with its innumerable figures in complex, twisting poses and its exuberant use of colour, is the chief source of the Mannerist style.