Born: 1884
Died: 1920
Gender: Male
Nationality: Italian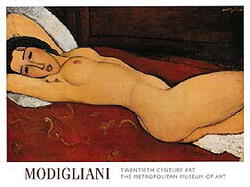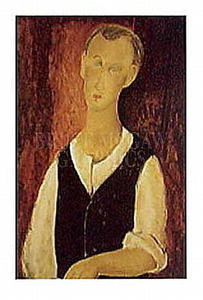 "I want to be a tuneswept fiddle string that feels the master's melody and snaps." Amedeo Modigliani.
Amedeo Modigliani was born in Leghorn (Livorno) into a Jewish Merchant family. Childhood illnesses meant he did not follow a normal education and he began studying with a landscape painter in 1898. He studied at the Institute of Fine Arts in Venice and then settled in Paris in 1906 where he lived for the rest of his life.
His early paintings show numerous influences such as Gauguin, the Fauves, Cézanne and Botticelli. In 1909 he met Brancusi who encouraged Modigliani to take up stone sculpture. However, in 1915 he reverted to painting as the materials for sculpting proved hard to find and the stone dust affected his breathing, since his lungs were already weakened by disease. Modigliani always worked primarily with bodies, whether it be sculpting heads or crouching figures, or painting portraits or female nudes. He applied many sculptural effects in his portraits and nudes, particularly the characteristic elongation of the head, the long raised ridge of the nose and the long neck. Many of his portraits depicted close friends such as 'Juan Gris' (1915) and 'Portrait of Paul Guillaume' (1915). While his sensuous nudes such as 'Reclining Nude' (1919) proved controversial for their rather blatant eroticism. Modigliani died from tuberculosis after a brief yet dissolute life; his mistress, Jeanne Hébuterne, pregnant with their second child, committed suicide the day after he died.
Despite his short life, his reputation continues to live on. His work was varied and conveyed a range of emotions, from the primitive to the sensual. He is seen by some as the godfather of modern art, but to many it is his reputation as a hard-living bohemian artist that ensures he will be remembered.