Born: 1881
Died: 1972
Gender: Male
Nationality: Spanish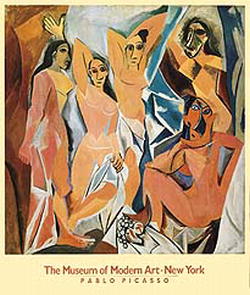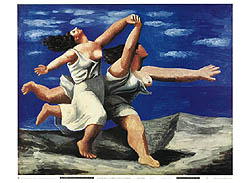 "The several manners I have used in my art must not be considered as an evolution, or as steps toward an unknown ideal of painting. When I have found something to express, I have done it without thinking of the past or future. I do not believe I have used radically different elements in the different manners I have used in painting. If the subjects I have wanted to express have suggested different ways of expression, I haven't hesitated to adopt them." Pablo Picasso.
Although born in Malaga, southern Spain, Picasso studied principally in Barcelona where he lived from 1895 to 1904. He showed prodigious artistic ability as a youth with very early works reflecting Art Nouveau influences. His paintings of 1901-1904 are known as his Blue period. These paintings of poor and suffering people such as 'Old Guitarist' (1903), depicted in restricted colour and simplified forms, express intense melancholy and pathos. In 1904 his move to Paris resulted in a lighter mood and palette, with increasing emphasis on experimentation around primitive forms.
The epoch-making 'Les Demoiselles d'Avignon' (1907) was a conscious attempt to complete his researches and is now seen as the moment that Picasso relinquished his obligation to natural appearances. Inspired by the Negro art he first saw in this year, along with Georges Braque, Picasso created Cubism. His early paintings in this style, now known as Analytical Cubism, clearly show recognisable forms dissected and reconstructed using overlapping translucent planes. Objects, landscapes and people are represented as many faceted solids. 'Woman with a Guitar' is a clear example of this. Having moved through 'Hermetic Cubism' which saw flatter, more abstract pieces, produced in mainly monochromatic greys and browns, colour reappeared in the final phase of Cubism known as 'Synthetic Cubism'. The impact of Cubism on the history of European painting and sculpture is immeasurable.
Between 1917 and 1924 Picasso worked on designs for many of Diaghilev's ballets which took him to Italy and led to a Classical feel entering his work. From 1925 his static figurative compositions became grotesque and violently active. This 'fantasy' period lasted until around 1940, with works such as the famous 'Guernica' (1936) revealing the latent expressive force of Picasso's work that had laid dorment during the Cubist years. Like many of the Surrealists, Picasso was disturbed and personally involved with the current political unrest in Europe and associated himself with the Spanish Republican cause.
Leaving Paris in 1946, he subsequently lived in Antibes, Vallauris and Vauvenargues. After Cubism, his major contribution to modern art is the freedom which characterises every aspect of his painting, sculpture, ceramics and graphic work. Picasso remained a prolific artist until his death and was arguably the most versatile and influential artist of this century.