Born: 1848
Died: 1933
Gender: Male
Nationality: American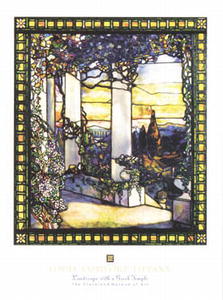 Louis Comfort Tiffany was born in New York, the son of a wealthy jeweller, Charles L. Tiffany. He began studying painting first with George Inness in the United States and later in Paris. In the 1870s he became interested in the decorative arts which led him to set up his own interior design business in 1879.
Six years later he set up the Tiffany Glass Company in 1885 specialising in experimental glass making in which he made a virtue out of the natural flaws associated with glass making such as the bubbles which formed in the glass when blown at very high temperatures. The firm intended to produce works of art such as lamps and vases which were affordable to the general public, yet the majority of the work, including stained – glass windows and mosaics, was created for upper class New Yorkers. One of his most impressive commissions was the loggia of the main entrance to the Laurelton Hall now exhibited at the Metropolitan Museum in New York.
His store became world famous and Tiffany & Co is still present on Fifth Avenue in Manhattan. The opalescent glass, known as Tiffany fevrile glass remains highly sought after. Tiffany was also a patron of the arts and established a foundation to provide grants for students to study and travel.