Born: 1775
Died: 1851
Gender: Male
Nationality: English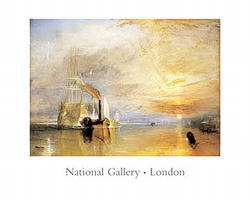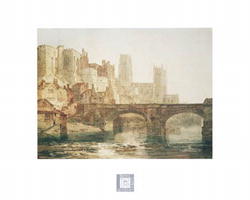 "He seems to paint with tinted steam, so evanescent and so airy…" John Constable.
Joseph Mallord William Turner was born in Maiden Lane, off Covent Garden in London. Turner showed talent early on and by the age of 13 his father, realising his son was a potentially lucrative asset, apprenticed him to Thomas Malton, a watercolourist. After a year Turner enrolled at the Royal Academy to study painting. By 1793 with the help of his father, Turner had his own studio. His early work consisted of precise drawings of landscapes, churches and country houses, while his main income came from work as a copyist.
In 1794 one Dr Monro alongside Thomas Girtin, commissioned Turner to produce a series of watercolours taken from J.R. Cozen's travel sketches. In the resulting pictures, Turner shifted from the exact reproductions of a scene to more intuitive depictions. Three years later his first oil painting, 'Bridgewater Sea Piece' (1797) was
exhibited at the Royal Academy, and in the same year he completed his acclaimed 'Norham Castle'. However, he soon turned to more grandiose themes in paintings such as 'Shipwreck' (1805) showing a more Romantic vein to his work. In its more dramatic subject matter and classical execution it owed a lot to the work of Poussin and Claude Lorrain. In 1802 Turner travelled to the Continent and was inspired by the Alpine landscape; later on in 1817 he was impressed by Belgium and Holland and two years on visited Italy for the first time. Venetian scenes formed the subject matter of many hundreds of Turner's works.
In the 1830s Turner's work became freer with intricate detail being replaced by a more dramatic use of colours and lighting for example in 'Snowstorm: Steamboat off a Harbour's Mouth' (1842).Turner's work became increasingly abstract as he explored the power, beauty and mystery of nature. During this period his works were concerned with the painting of light, to which the ostensible subject matter was almost secondary.
Turner achieved great success during his lifetime, including becoming the youngest ever Associate of the Royal Academy at the age of 24, three years later being made a full Academician, and also winning considerable praise from the likes of John Constable and the writer John Ruskin. He produced close to 20,000 works during his career many of which today are regarded as masterpieces.