Born: 1834
Died: 1917
Gender: Male
Nationality: French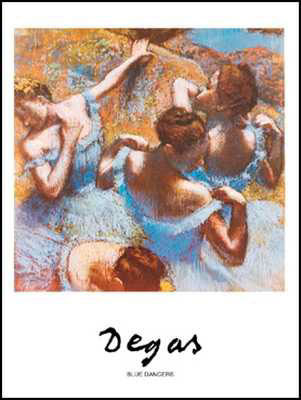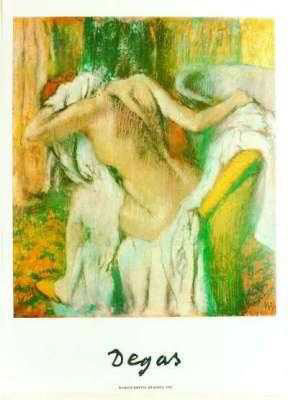 "Even when working from nature, one has to compose. No art was ever less spontaneous than mine." Edgar Degas.
Edgar Degas was born on Rue de la Victoire in Paris, the son of a wealthy art-loving banker. Initially trained in law, he instead entered the Ecole des Beaux Arts in 1855 where he studied under Louis Lamothe. Degas spent a period of time in Italy studying the work of the Old Masters. His first works include many portraits, copies and historical paintings, for example 'Italian Head' (1856) and 'Young Spartans' (1860), all painted in a severely classical style. A chance meeting with Manet led Degas to encounter the Impressionist group and he soon moved away from historical scenes to concentrate on the contemporary.
He exhibited in seven out of the eight Impressionist exhibitions. In his paintings he began to favour certain subjects such as racing scenes, café scenes, ballet, theatre and the circus. Unlike the Impressionists, however, he did not depict landscapes with their
eye to the effects of light and shade, but preferred more rigorous academic studies. Works such as 'Four Studies of a Jockey' (1866) show great attention to detail while 'Dancers Preparing for the Ballet' (c.1872/1876) demonstrates an intimate viewpoint, as if we have just stumbled upon the scene. The influence of Japanese prints can be seen here with its surprising, almost off-kilter composition while in other studies one can see the Japanese technique Degas adopted for conveying a sense of movement. Degas became fascinated with ballet and his many depictions in paintings and pastels as well as in sculpture, prints, drawings and even fan decorations, show an almost documentary-like examination of this world.
Degas also represented many scenes of modern life including unusual portraits of his family such as 'Uncle and Niece' (c.1875/1879) and contemporary works for example, 'Mary Cassatt in the Painting Gallery of the Louvre' (c.1879). When his sight began to fail his use of pastels became increasingly more common. Throughout his life, however, he experimented with many palettes. In his final years of work he turned to modelling, for example galloping horses, women at their toilette and nude dancers.
Degas, like Manet (who also came from an upper middle-class background), remained aloof from the Impressionists, yet he devoted his life to his art. He had many admirers among his contemporaries, indeed Camille Pissarro said that he was 'certainly the greatest artist of our epoch'. Degas was fascinated with form and technique. Always experimenting with composition, with different media and colours, Degas was a master draughtsman, both academic and instinctive. He was the first of the Impressionists to achieve recognition and his work is still held in high esteem.