Born: 1886
Died: 1957
Gender: Male
Nationality: Mexican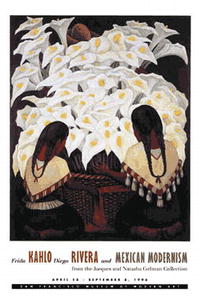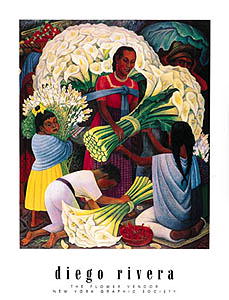 "He liked to be seen with women and he loved women very much. Only one thing pleased him more than being out to dinner or to a gala celebration with two beautiful women, that was free time to paint… Painting was his true love." Lola Olmedo, a close friend.
Diego Rivera was born in Guanajuato and his family moved to Mexico City when he was six. By the age of ten he had enrolled at the Academia de San Carlos and studied under a number of influential teachers including Félix Parra and José Maria Velasco. Disagreeing with the system of photographic realism introduced by the new director, Antonio Fabrés, he left the academy in 1902 and took up painting full-time. He had his first exhibition in 1907 and was awarded a grant to study in Madrid at the Academia de San Fernando. From 1908 to 1909 he travelled widely around Europe before returning to Mexico in 1910 and witnessed the beginning of the Mexican Revolution.
In 1911 Rivera was back in Paris where he was influenced by the Pointillist and Cubist movements. He was to remain in Europe for ten years. By 1921 Alvaro Obregon had been elected President of Mexico and Rivera, with his strong personality, became the leading artist under his administration. Rivera undertook a number of murals that glorified the history and peoples of Mexico. Often huge in scale they decorate many public buildings in Mexico City. One of the most magnificent, although left unfinished at his death, was his mural for the National Palace in 1929, depicting the history of Mexico. Rivera spent four years in the United States from 1930, painting a number of frescoes, the most famous being a series on industry in Detroit. Returning to Mexico he continued to turn out a huge number of paintings, mainly landscapes and portraits.
Rivera's murals were hugely inspirational to the Mexican people. He channelled enormous amounts of energy into his works, driven by his fierce nationalism and socialist identity. His skill lay in the riveting way he rendered graphic scenes, combining traditional and modern scenes using both stylised and realistic images. At the same time, his paintings showed great compassion for his countrymen and he often infused his work with a great deal of charm and sensuality. Rivera was also a skilled printmaker, sculptor and book illustrator.