Born: 1848
Died: 1903
Gender: Male
Nationality: French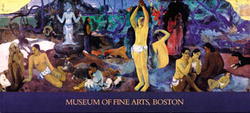 "I am a great artist and I know it. It is because I am that I have endured such suffering." Paul Gauguin.
Paul Gauguin was born in the Paris at the height of the 1848 Revolution. His childhood was spent in Lima but in 1865 joined the merchant marines for two years followed by three years with the French Navy. In 1871 he joined the stock exchange and painted in his spare time. He collected works by artists such as Manet, Monet and Cezanne which he studied intently. It was Camille Pissarro who was his greatest influence and in 1883 Gauguin moved to Rouen to be closer to the man. By this time, with his wife Mette Gad, he had a family based in Copenhagen. As he gave up his job he could no longer support them financially and effectively abandoned them and everything besides for his art.
He went to Brittany in 1886 and produced works such as 'The Bathers' which still owed a great debt to the Impressionists. However, in Pont-Aven he met Emile Bernard who introduced Gauguin to the concept of 'cloissonism', a visual equivalent of symbolist poetry in which only the essence of an object was expressed. This idea led to the creation of 'Vision After The Sermon' (1888), Gauguin's first masterpiece. A year later he was excluded from the official Universal Exhibition in Paris but managed to hang his and his associates' paintings in the Cafe des Arts entitling themselves, 'The Impressionist and Synthetist Group'. Although not rousing great interest the pictures did serve to raise his profile somewhat. His paintings contained increasing amounts of religious imagery often featuring himself in the role of one of the protagonists. He used vivid colours unnaturally, reflecting his interest in primitive art forms and his desire to recapture some lost paradise from his youth.
By 1891 he was gaining quite a reputation but instead of consolidating this new found success he fled to Tahiti. It was not the paradise he had been seeking yet he remained for two years and produced almost 80 paintings. Poverty and illness drove Gauguin back to France but after receiving an inheritance from the death of an uncle he headed back to Tahiti once more. In 1897 his daughter, Aline dies and falling into a deep depression completes one of his finest works, 'Where do we come from…?' Soon after he makes an attempted suicide then eventually takes up a post as government draughtsman in Papeete. Three years after his death a huge exhibition of his work took place at the Salon d'Automne in Paris. It is regarded as one of the most influential exhibitions of the 20thcentury. His richly coloured, highly evocative work has inspired countless artists.