Born: 1909
Died: 1992
Gender: Male
Nationality: Irish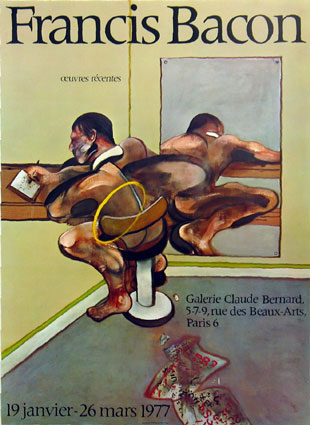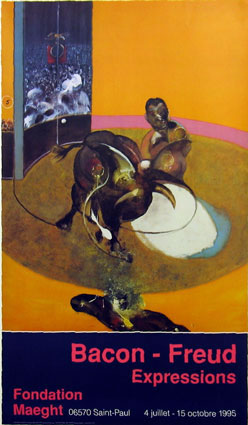 Francis Bacon was born in Dublin to English parents. During his time in Ireland, with the development of the Sinn Fein movement, he witnessed a lot of violence up close and this can be seen as a possible clue to his artistic developments later on. After moving back to London to be with his father in 1926, he travelled to Europe, first to Berlin, then to Paris where he was exposed to the works of artists such as Leger, Miro and, perhaps most influentially, Picasso and he began to paint with water colours. Returning to London in 1929 he took work as a decorator before taking up painting full-time. It wasn't until 1945, however, when he first found success with his painting entitled 'Three Studies for Figures at the Base of a Crucifixion'. Rather than capitalising on this success, Bacon went to live in Monte Carlo for two years where he indulged what were to become his lifelong habits of gambling and drinking.
Back in England he had his first one-man exhibition at Erica Bareness' Hanover Gallery. This led to many more and by 1953, with a show in New York, his name was placed firmly on the map. Alongside figures such as Frances Hodgkins, Henry Moore, Ben Nicholson and Graham Sutherland, Bacon was to become one of the most feted and often most controversial of British contemporary artists.
He was fascinated with representing the human psyche, often depicting human figures twisted into horrific poses, reacting to some primal fear. He had a strong interest in film and photography and this can be seen in the blurred effects he used to convey movement. His technique was one of control yet he remained open to the possibility of lucky mistakes. Some have claimed Bacon as an Expressionist, others saw him as a Surrealist while the man himself regarded his work as Realist. In actual fact he was probably all of these, as well as, at various times, a Constructivist and a Futurist. Despite no formal schooling he was well aware of art history and as well as Picasso and van Gogh amongst his inspirations, he had a particular liking for Velasquez and his portrait of Pope Innocent X, a picture Bacon went on to reinterpret a number of times. Although some viewers find Bacon's work too disturbing to handle, his position as one of the most unique artists of the20th century is beyond doubt.