Born: 1925
Gender: Male
Nationality: American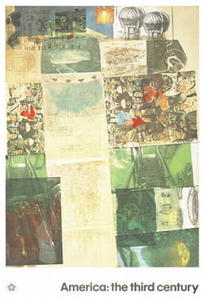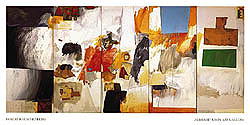 "My work is about wanting to change your mind. Not for the art's sake, not for the sake of that individual piece, but for the sake of the mutual co-existence of the entire environment." Robert Rauschenberg.
Milton, later Robert, Rauschenberg was born in Port Arthur, Texas, part German and part Cherokee Indian. He became interested in art after a chance visit to a gallery while serving in the US Navy as a mental hospital nurse in the final years of World War Two. Discharged in 1945, Rauschenberg studied art at a number of institutions including the Kansas City Art Institute, the Academie Julian in Paris, the Art Students League in New York and Black Mountain College in North Carolina. It was at Black Mountain where Rauschenberg found his greatest influences. The painter Josef Albers ran the art department and as one of his assignments sent students out to find objects that could be deemed aesthetically interesting. This project was to prompt Rauschenberg's later fascination with 'found' items incorporated into many of his works. It was also in North Carolina where he first met the composer John Cage and the dancer and choreographer, Merce Cunningham, both of whom influenced him greatly.
Rauschenberg's first one-man show took place in 1951 at the Betty Parsons Gallery in New York. At this time his work was minimalist in style, often using single colours in his paintings. In the mid-50s he developed a collage and montage technique called 'combine painting' using real objects such as photographs and 'found' objects which he affixed to the painting's surface. His studio was a junk heap, containing items as varied as cola bottles, clocks, radios and fragments of clothing which would eventually be integrated into his work. One of his most famous works, 'Monogram' (1955-1959) featured a stuffed goat with a rubber tyre surrounding his middle and splashed with paint in a style reminiscent of Action painting. By the end of the Fifties his reputation was assured.